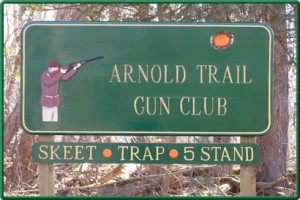 Physical Address:
1659 Pond Road, Rte. 23, Sidney, Maine 04901 
Mailing Address:
PO Box 515, Waterville, Maine 04901
Email Address:
dlklipp@roadrunner.com
The Arnold Trail Sportsmen's Association is named after the nearby Revolutionary War route, traveled by troops under the command of Benedict Arnold on a failed mission to seize Quebec from the British.
We are equipped to shoot many variations of skeet, trap, and 5-stand sporting clays.
Rates are $6.00 per round (25 targets) for non-members; $5.00 per round for members and guests; $2.50 per round for juniors.
Annual membership fees are $40.00 for an individual; $60.00 for a family.
Arnold Trail Sportsmen's Association currently operates up to 4 fields, for maximum efficiency. Hearing and eye protection is required at all times.